Karen Williams
"Finding Joy in Diversity: Many in Body, One in Mind"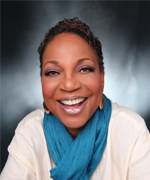 Learning Objectives:
To develop awareness and sensitivity about differences.
To learn ways to utilize leadership skills for transformation and healing.
To improve communication skills to address conflict resolution.
To reignite commitment, challenge and compassion to reduce stress and burnout, and achieve desired results.
To gain knowledge about the benefits of humor in the workplace to generate joy.
Session Description:
This workshop is designed to explore some of the barriers imposed by race, gender, class, sexual orientation, ability, and cultural differences. Discussions will focus on the use of appropriate humor to raise sensitivity, and to generate creative and positive action in our daily lives. With its accent on leadership training, this session will empower participants to appreciate differences, embrace similarities, and promote harmony, joy, and compassion in our respective environments and communities.
Speaker Bio:
Karen Williams is the Founder and CEO of HaHA Institute (www.hahainstitute.com) since 1988. HaHA Institute is the brainchild of internationally acclaimed and nationally-known stand-up comic, humor educator, and motivational speaker Karen Williams, whose background includes over twenty years of theatrical training, improvisational comedy, dance and movement, psychodrama, metaphysical studies and active parenting, as well as forty years of Buddhist practice.
The mission of HaHA Institute is to encourage the fullest and highest activation of human potential for compassion, wisdom, and life force through the daily use of humor and healing arts, which includes stress management, nutrition, exercise, massage and healing touch, aromatherapy, and spiritual practices.
Karen Williams is also the creator and facilitator of the Humor-at-Large Workshop Series; founder of the National Women's Comedy Conference; past president of the Association of Women's Music and Culture; and former board member of AIDS, Medicine and Miracles, Love Makes A Family, and the National Black Justice Coalition.
Karen Williams graduated summa cum laude from Cleveland State University with a personally-designed major in "Humor and Healing." She earned a Master of Education degree from CSU's Adult Learning & Development program. Karen Williams, M.Ed, taught Stand-Up Comedy in the Dramatic Arts department of Cleveland State University.
HaHA Institute interactive workshops are specifically designed to build and promote healthy self-esteem and well-being, and to encourage full support of the principles of tolerance and respect for the dignity of human life, using the tool of appropriate humor.
Workshop clients include Parker-Hannifin, Baxter Health Care, Aultman Hospital, Girl Scouts of America, YWCA, Fairfax Hospital, Cleveland Clinic, Lakeland Community College, Professional Women's Institute, Lubrizol, Planned Parenthood, Human Rights Campaign, Michigan Coalition Against Domestic and Sexual Violence, Gay Men's Health Crisis/Women's Institute, AIDS Taskforce of Greater Cleveland, Out & Equal Workplace Advocates, United States Department of Agriculture, State Departments of Health (Indiana, New York, Texas, Illinois et al), National Gay and Lesbian Task Force, Zuna Institute, and University of Chicago Hospitals Learning Institute.
Karen is a modern-day alchemist, whose audiences revel in her cathartic laughter, and whose peers consider her a comic's comic! As a solo entertainer, Karen Williams delights fan-filled audiences from San Francisco to South Beach to Sydney, and is a comic favorite with Olivia Travel, known for its signature women's cruises and resorts.
Curve Magazine calls Karen Williams "...a laugh riot!" The Sydney Morning Herald proclaims that Karen Williams is "ferociously funny, with perfect pace, timing and structure."
Karen Williams is a legendary comedy star -- with an awesome personality, radiantly appealing attitude, and a sterling reputation for delivering laughs each and every time!
Comedy writer and former television host of the New York variety show, "In The Life," Williams' humor writings appear in numerous anthologies, including "Joke Stew" (Andrews McMeel Publishing); Revolutionary Laughter" (Crossing Press); "Out in All Directions" (Warner Books); and "Out, Loud & Laughing" (Random House).
Aspect Marketing & Communications is very customer focused and exceeds our expectations in managing our requests in a timely manner. - Erin Henry (MVHRA President 2012-2013).