Julie R. Pugh
"Have Your Lifejacket Handy: The HR Professional's Role in Addressing Pre-lawsuit procedures"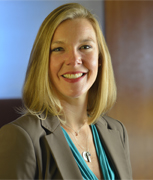 Learning Objectives:
Understand how to respond to threatened litigation by current and former employees.
Understand how HR professionals can best position cases for litigation or resolution.
Understand the role of HR in saving the organization on legal expenses.
Session Description:
In this interactive session, attendees will be presented with an age discrimination scenario. The content will focus on understanding and appropriately responding to a private demand letter, usually received from the current or former employee's attorney. The content will include interactions relating to negotiations, mediations, severance agreements, and settlement. There will also be a major focus on managing an aging workforce population.
Speaker Bio:
Julie Pugh is an attorney/partner at the Graydon firm in Cincinnati. She is a noted national speaker on a variety of employment topics. Julie's training sessions are recognized for being edgy, vibrant, and innovative.
As a trusted advisor on both labor and employment issues, Julie routinely counsels clients on a variety of legal topics. Her continued involvement in the HR community provides her a unique understanding about clients' needs. She truly enjoys her legal practice, as solving problems and supporting strong, ethical employment practices are an important component of her daily life. Julie is a recognized as a Professional in Human Resources (PHR) and a Certified Professional by the Society for Human Resources Management (SHRM-CP).
Julie and her husband, Jeff, have two young boys. She is fueled by coffee, tolerant of mischievous cuteness, and an answerer of the eternal question, "why?"
Aspect Marketing & Communications is very customer focused and exceeds our expectations in managing our requests in a timely manner. - Erin Henry (MVHRA President 2012-2013).