Ben Eubanks
"Driving Change: How HR Can Lead Effective Change Management Practices"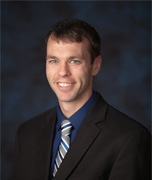 Learning Objectives:
Attendees will be able to use Kotter's change model as a framework for coaching executives, shaping change initiatives throughout the business and beyond the borders of HR.
Attendees will apply change management practices that balance expectations of employees, executives, customers, and other stakeholders.
Attendees will leverage an evidence-based approach to create powerful, data-driven results from change and the opportunities provided therein.
Session Description:
Change, funny enough, is unchanging. Every day there are new challenges and opportunities, but are our organizations ready for this pace? In this lively session, Ben Eubanks will examine the increasing pace of change for the business world and what it means for those tasked with internal change management practices. Are the old methods still enough, or do we need a new model? In addition, we'll explore principles of influence, such as building alliances, considering stakeholder inputs, and more. The session will include case studies of companies that have successfully (and unsuccessfully) faced change head-on and the lessons found within.
Speaker Bio:
Ben Eubanks is the principal analyst at Lighthouse Research and Advisory, a human capital research and advisory services firm. He works with HR leaders to develop forward-looking strategies for meeting their complex talent challenges. He also collaborates with HR and talent technology companies on research, product development, and marketing to help them better serve the marketplace. Ben is a former practitioner, tempering a research-based approach with a practical perspective of today's business challenges. In addition, he hosts the popular "We're Only Human" podcast, one of the featured shows on the world's largest HR podcast network, to help explore the intersection of people and technology in the workplace. He also runs upstartHR, a website dedicated to improving the human resources profession, one HR pro at a time. The site has served more than 750,000 readers since its inception. Ben holds both SPHR and SHRM-SCP certifications and volunteers with his local HR chapter.
Aspect Marketing & Communications is very customer focused and exceeds our expectations in managing our requests in a timely manner. - Erin Henry (MVHRA President 2012-2013).