Brad Cooper & Suzanna Barnett Cooper
"The Employee Wellness Workshop"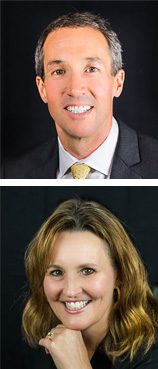 Learning Objectives:
Attendees will identify the organizational elements often absent from traditional employee wellness strategies;
Attendees will understand the business case for developing an employee wellness strategy tied to lasting, meaningful change; and,
Attendees will garner strategies for producing an effective outcome while simultaneously limiting personal and organizational time commitments.
Session Description:
If you're an organization with 100+ employees, you most certainly have some sort of an employee wellness program in place. Unfortunately, there's a good chance it's taking too much of your time, lacks engagement with your team and isn't providing the outcomes you expected. It doesn't have to be that way, and this program will provide you the opportunity to dial in an effective strategy specific to your organization. Join us for the popular, energizing and practical Employee Wellness Workshop!
Topics covered will include but not be limited to the following:
*Typical gaps in strategy and how to effectively fill them
*Identifying your organization's Wellness Quotient (WQ)
*Matching strategy to organizational culture
*Developing a mini-SWOT analysis going forward
Speaker Bio:
Brad Cooper
Today's speaker, Brad Cooper, has been a lifelong student of, and catalyst for, human performance optimization at all levels…
• In his 20's, he earned a Masters degree in Physical Therapy and treated patients across the spectrum of orthopedic & neurological diagnoses
• In his 30's, he earned an MBA, wrote 3 books, moved into a VP of Ops role and worked to expand upon his clinical & leadership knowledge/understanding while continuing to treat patients
• In his 40's, he became the CEO of US Corporate Wellness, the Co-founder of the Catalyst Coaching Institute, wrote a 4th book and was identified by several publications as the World's Fittest CEO
• Now in his 50's, he continues his CEO role, while simultaneously launching into an international PhD program. His research is focused on mental toughness and how it can be applied in athletic, professional and (especially) population health management outcomes
Along the way, he's fallen deeper in love with his bride of 25 years, treasured being Dad to 3 incredible kids, secured 2 US Patents, completed 11 Ironmans (4 times at Kona), won the Race Across America and spoken professionally in all 50 states to a wide range of organizations.

Suzzana Barnett Cooper
Suzanna has a pair of Masters degrees, including one in Counseling, and is known nationally for her knowledge of coaching and interpersonal communication. As the Chief Learning Officer for the Catalyst Coaching Institute, she is the driving force behind one of the top coach training programs in the country (in addition to teaching at the University level).
Recognized as one of Colorado's "Most Outstanding Women In Business," Suzanna is responsible for developing the most personalized and relationship-oriented employee wellness coaching design in the industry. She brings dual Masters degrees and an extensive educational and practical background in Counseling, Psychology and Occupational Health, as well as licenses in both Counseling and Occupational Therapy to the table. In addition, she has combined this with advanced training in positive behavior change with a specialized focus on Intrinsic Coaching and Motivational Interviewing. Suzanna is one of a very select group of individuals to have been invited to participate as part of the Motivational Interviewing Network of Trainers, a collection of the best and brightest minds from across the globe in this specialty area. The CWC designation as a Certified Wellness Coach, available exclusively through our own Catalyst Coaching Institute, is a result of years of research, training and fine-tuning by Suzanna, placing the most critical tools and training into the hands and minds of wellness coaches across the country. Personally, she enjoys everything from hiking and skiing to tennis and an occasional half marathon.
Aspect Marketing & Communications is very customer focused and exceeds our expectations in managing our requests in a timely manner. - Erin Henry (MVHRA President 2012-2013).