Julie Pugh
"Who Wants to Be a Defendant"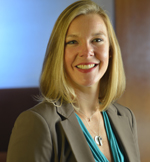 Learning Objectives:
Interact as a defendant;
Learn the inner workings of litigation; and,
Learn proactive steps to optimize legal risk
Session Description:
"Who Wants to Be a Defendant" is an interactive training game for human resources professionals. It is loosely based on several reported sexual harassment and negligent hiring and retention cases which have been decided by courts and reported in law books. During the presentation, the audience will learn by doing – by being lawyer, judge and jury actors who have to present and decide a case based on the facts and the law.
Speaker Bio:
Julie is a trusted advisor on both labor and employment issues. She routinely counsels clients on a variety of legal topics. Julie's trial experience and continued involvement in the HR community allows her to offer a unique understanding about a client's needs. She earned her J.D. at the University of Cincinnati College of Law and B.A. in Human Resources from Xavier University, but roots for the Musketeers during the Crosstown Shootout. Julie also holds a certification as a Professional in Human Resources (PHR), is SHRM-CP certified, and is the Secretary and Executive Board Member of the Greater Cincinnati Human Resources Association (GCHRA). Originally from Kokomo, Indiana, Julie resides in Cincinnati with her husband, Jeff, and their two young boys, Austin & Caleb. Julie is fueled by coffee, tolerant of mischievous cuteness, answerer of the eternal question "why?" and would be happy to show you pictures of her boys—just ask!
Aspect Marketing & Communications is very customer focused and exceeds our expectations in managing our requests in a timely manner. - Erin Henry (MVHRA President 2012-2013).